Sunday School &
Baptist Training Union 
Since 1925
History of Charleston Baptist SS & B.T.U. Congress of Christian Education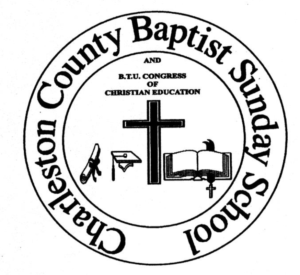 Charleston County Baptist Sunday School & Baptist Training Union Congress of Christian Education is the teaching and training arm of the Charleston County Missionary Baptist Association. As the teaching and training arm of our Association, it is our ultimate concern and primary goal to see to it that our people not perish for the lack of spiritual knowledge.
As a Congress, we provide annually two One-Day Study Sessions, a One-Week Study Session for certification as prescribed by the South Carolina Baptist Congress of Christian Education and the National Baptist Congress of Christian Education, individual workshops, conferences, and seminars for our churches, and an Annual Session in June or July.
Our Bible Quiz and Educational Meetings are held on the second Thursday of each month, and our Youth Auxiliary Fellowship is on the second Sunday of each month except for holidays. We also participate in the Emancipation Proclamation Parade and Worship Service and the Martin Luther King, Jr., Parade.
We are affiliated with the South Carolina Baptist Congress of Christian Education and participate in the following: Christian Education Workshop, Vacation Bible School Conference, Sunday School Workers Conference, and the Youth Advisors/Youth Workers Workshop. We also have participants in the N. J. Brockman Oratorical Contest, the C. O. Jackson Oratorical Contest, the Julia A. Starks/Dunbar Gandy Camp, The Young's People Assembly, the Mid– Winter Session, and the Annual Session in July.
We support Region One Conference of the Baptist Educational and Missionary Convention of South and make annual donations to Morris and Benedict Colleges. We are affiliated with the National Baptist Congress of Christian Education, auxiliary to the National Baptist Convention, USA, Inc. and attend the Annual Session in June. We also send a delegate to the Mid-Winter Session and to the Annual Session of the National Baptist Convention, USA, Inc.
In 1925 the Charleston County Baptist Association was held at Union Baptist Church (7 Mile) during the pastorate of Reverend J. F. Sutton, who deemed it necessary to have an auxiliary to this body. The auxiliary was named the Charleston County Baptist Sunday School and Baptist Training Union Convention. This convention was organized to promote Christian Education. The officers were: President—Reverend J. C. Dunbar, Vice-President—Reverend Calloway, Secretary—Sister Ruby T. Brown. Treasurer—Sister Carrie Tobin, District Superintendent—Brother J. D. Haynes, and Organist—Sister V. Lewis. President Dunbar served for 29 years. He stressed that as Baptists, we were to lift up a living standard for the people. Reverend Thomas Cohen (1951-1954), the second President said, "We are responsible for our growth."
In 1952, the Youth Auxiliary for young people was organized at Salem Baptist Church (Ages 12-14). The Youth Officers were: President—Dorothy Thompson, Secretary—Juanita Fyall, Assistant Secretary—Bernice Grant, and Treasurer—Frances Williamson.
Deacon Andrew Lambright (1954-1960), the third President, in his foresight saw a need for an advisor for the Youth Auxiliary. In 1954 at Jerusalem Baptist Church, Sister Vivian A. Moultrie was elected to that position. Sister Erline B. Mitchell served as the Youth Auxiliary Advisor for one year, then Sister Vivian Moultrie was re-elected to the same position.
Deacon J. W. Wright (1960-1966), the fourth President, was elected in 1960. During his tenure a Music Director, Educational Director, and B.T.U. Directors were added.
This list of former Congress Presidents include: Reverend Dr. A. R Blake (1969-1972), Reverend Dr. F. D. Dawson (1973-1976), Reverend R. L. Fields (1977-1978), Reverend William Capers (1979-1981), Brother Willie Singleton, Sr. (1982-2009), Reverend Dr. Alex White, Sr., (2009-2014), and Reverend Bernard L. Judge (2014-2016).
******* Current Officers *******
Deacon Cornell Dinkins, President
Dr. Zenovia Brown Frazier, Dean
Deacon Joseph E. Dean, District Superintendent
Sister Linda S. President, Secretary
Sister Barbara S. Thompson, Treasurer
Sister Thelma B. Ravenell, Youth Advisor
Sister Carolyn A. Bartley, Assistant Youth Director
Sister Gloria E. Gantt Lambright, Executive Board Member Reverend Bernard L. Judge, Executive Board Member Sister Shirley S. Newton, Executive Board Member Deacon Melvin Ravenel, Executive Board Member
******* CALENDAR OF LOCAL CONGRESS EVENTS *******
Youth Auxiliary Fellowship ……………………………………………………. Second Sunday from September – May
Bible Quiz Meeting and Educational Meeting………………………… Second Thursday from September – May
One Day Study Session………………………………………………………………………….Second Saturday in February
Congress King and Queen Pageant……………………………………………………………….Second Sunday in March
Congress Day Worship Service ………………………………………………………………………Third Sunday in March
C. O. Jackson Oratorical Contest……………………………………………………………………….Third Sunday in May
Annual Session of CCBSS & B.T.U. Congress of Christian Education……………………………………………July
One Day Study Session…………………………………………………………………………… Last Saturday in September
N. J. Brockman Oratorical Contest …………………………………………………..Second Sunday in October
December Fellowship (Christmas Tea)……………………………………………………………………………….December
Dinner for Congress Golden Members ……………………………………………………………………………….December
 ABOUT OUR LOGO
The Cross
Symbolizes the Christian Faith
The Bible
The Word of God-the sole authority in determining The faith and practice of God's people
The Cap and Diploma
Illustrates the teaching and training ministries of the Charleston County Baptist Sunday School & Baptist Training Union Congress of Christian Education
Congress Motto Congress
"Study to shew thyself approved unto God, a workman that needeth not to be ashamed, rightly dividing the word of truth". II Timothy 2:15
Theme Song
"More About Jesus"